---
Trade without limits!
---
The world is more flexible with our e-commerce platform
You're not sure? Know one of the
available features.
Our platform allows you to personalize stores that attract buyers and close more sales.
Choose from the best shop designs available online, ask to personalize your site or try to do it yourself.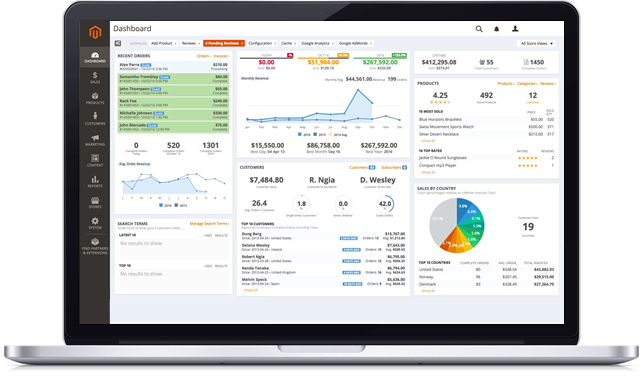 Magento2
+

IT Infrastructure

+

Payment gateway

+

Analytical

+

Consultancy
Build a beautiful e-commerce website
Our highly customizable platform allows you to create the perfect shopping experience easier and faster than any other service in the industry.


Attract more traffic with built-in Marketing and SEO
Google search positions, win clicks and sales by implementing a planned SEO campaign. Our platform gives you the necessary features for this..
Accept online payments with a provider of your selection
We are not in the economic equation of the national or international payment gateways. For this reason, we allow you to use your choice provider without additional transaction charges. We provide native integrations with the best payment platforms in the industry.

Make sales for both B2B and B2C
Today's B2B buyers demand the same modern online shopping experiences and the ease of use that B2C consumers enjoy. We facilitate the creation of these experiences with specific tools you need to serve your wholesale buyers.
Reliable and secure web hosting with unsurpassed performance
Our platform includes your store's hosting and security for you, with leading performance and top-level fulfillment.


Analyze your sales in real time with a built-in analytics
Specially designed to help you grow by revealing product and customer trends that can help you drive sales. Use our Ecommerce analytics to view store performance at any time.
This is not all...
See more main features
Select the best option for your business!
An eCommerce platform aimed at those people who have no programming domain and who want to create, manage and personalize their online store, efficiently, securely and with minimal investment.
---
Rapid growth
Tools you need to increase your sales by getting better
results.
Products: Unlimited
Cores: 1 a 4
Memory: 2GB to 8GB
SSD Disk: 20GB to 80GB
Transfer: Unlimited
Static IP: Yes
Multisite: No
High performance
Advanced features, high-quality support, enterprise-level hosting.
Products: Unlimited
Cores: from 8
Memory: from 16GB
SSD disk: from 100GB
Transfer: Unlimited/100mbps
Static IP: To 4
Multisite: Yes